The Old Trafford faithful certainly hold a lot of legends dear to their heart: King Eric, Fergie, Giggsy, and the list goes on. But as terraces give way to message boards, a new name has become the toast of the town amongst Manchester United fans- a man who epitomises the way the club is run from the top down: Ed Woodward.
Though Woodward, who became United's CEO when David Gill retired alongside Sir Alex Ferguson in 2013, is drawing plaudits due to his recent captures of Bastian Schweinsteiger and Morgan Schneiderlin, his impact at the club has been tremendous and far reaching since his association with the club began in 2005.
Joining initially as a financial advisor to the Glazers when they took over Manchester United, Woodward spearheaded United's overseas sponsorship deals, turning the club into an absolute revenue monster and one of the most recognisable brands in the world, regardless of fortunes on the field. Whereas most clubs need to keep a constant influx of big name players and trophies to keep foreign markets and sponsors interested, Woodward leveraged United's strong relative international presence in the early 2000s to create a loyal global fan base. Therefore such revenue streams would not dry up, even when foreign billboards were adorned with Darren Fletcher, as opposed to Kaka.
Woodward's success in directing United's commercial dealings can best be shown through the raw numbers. The clubs revenue increased three fold since his joining, and is a close second only to Real Madrid. They have the biggest commercial revenue stream in world football, totalling over $1.1 billion a year, and are the only club currently with an "Official Global Noodle Partner", a deal which is has Woodward written all over it.
Now though it must be said that such a role in the club is never going to get as much idolization amongst fans as an all time top goal scorer, Woodward's importance to United's past on field success and any hope of a return to winning ways cannot be underestimated. While it is clearly true that commercial revenue
fund transfers, having such reliable commercial revenue streams as Woodward has secured for United is what separates them from other clubs.
Whereas any other elite premier club would have taken a huge financial hit in missing out on Champions League football, as United did last season, the Manchester club was still able to reinforce their squad with £75 million worth of talent to break back into the top 4, without incurring an overall loss. In an age of Financial Fair Play and where owners can abandon their clubs if the financial situation becomes untenable, the fact that Woodward has turned Manchester United into a club which will always struggle not to make a large profit is something their fans should eternally be grateful for.
But, perhaps unsurprisingly, there has been little fanfare (until very recently at least) for the man who has guaranteed United sustained competitiveness for the foreseeable future. In fact, during his first few months as CEO, and hence responsible for orchestrating United's transfer dealings, he was ridiculed by football fans across the world, including one's of the club who he helped make a global superpower.
Though, admittedly Woodward's inexperience in transfer dealings was brutally exposed in the summer of 2013, as he was repeatedly snubbed by Barcelona for Cesc Fabregas, missed out on a widely reported release clause that would have lowered Marouane Fellaini's transfer and was bizarrely swindled out of a deal for Ander Herrera by an "unauthorised third party" (read: con-man), the backlash he faced by the media over this completely overlooked his previous contributions to the club.
Indeed, in a new front-end role at the club, Woodward was somewhat of an easy target. Alongside David Moyes, he was replacing one of the most formidable Chief Executive/Manager partnerships in the business world in David Gill and Sir Alex Ferguson. That alone always made it somewhat of a poisoned chalice. It was also Woodward's first time in such a role, and although the switch from Head of Finance to Chief Executive is not an unusual one, to give someone their first CEO role in one of the most scrutinised companies in the world was always a huge ask. Add to this the ad hominem facts that Woodward's full name is a bit ridiculous (go on, try saying "Edward Woodward" out loud and sound serious) and that when he is clean shaven he looks a bit like a 9 year old boy and you have a man who was ripe for media crucifixion.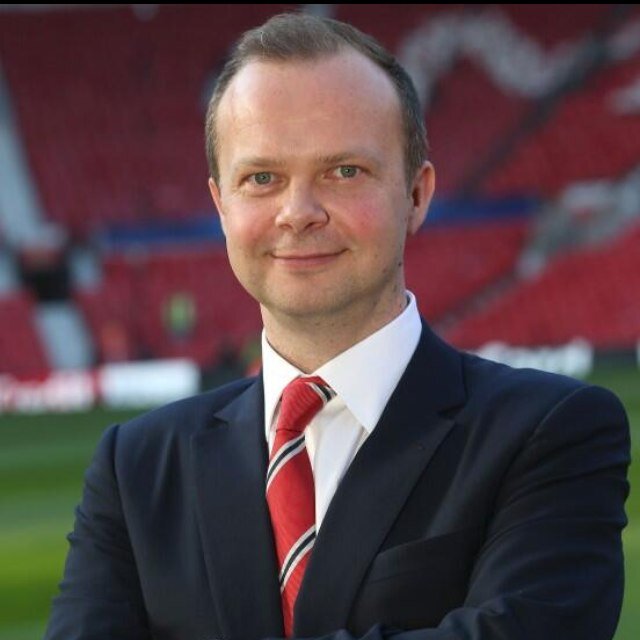 See what I mean?
But like all club icons, Woodward has overcome adversity to turn it around. The man who was duped by an Athletic Bilbao impostor less than two years ago is now taking on Florentino Perez over David De Gea and seemingly winning. He has also finally seemed to loosen the Glazer's purse strings after a decade of relative austerity, and if such financial rejuvenation pays off in trophies he will certainly be cemented in Old Trafford folklore forever.
If Cantona is "The King", than surely Ed Woodward is "The Boss".